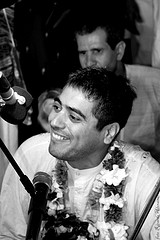 I was introduced to the Hare Krishna movement very early through my parents Sri Vani Dasi and Sri Thakur Das.
I studied at the Gurukula in Nova Gokula farm, Pindamonhangaba, Brazil where I received spiritual training based in the Bhagavad-Gita. There I had deep connection with Kirtan (spiritual-devotional chant) and received my first initiation from my Guru Hridayananda Dasa Goswami in 1994.
My life has always been around Kirtan. When I was 11, I lead chantings at the local Hare Krishna temple in Brasília. At age 14 I was one of the main singers in a big Hare Krishna festival in Brazil, known as Ratha Yatra in Porto Alegre, Brazil.
I'm blessed with my daughters, Vrinda Kunda, Sarasvati, Janapriya and my wife Damayanti Dasi. I work in the IT industry and travel when possible around the world supporting Kirtan every year.
I attended Escola de Música de Brasila, a traditional western music school in Brazil. My devotional singing is a result of inspiration from many who have been participating and spreading Kirtan in the world. To name a few,  A.C. Bhaktivedanta Swami Srila Prabhupada, my spiritual master and many who sings sincerely inspiring Bhakti (pure devotion) in all of us.
Please continue to give your full energy and attention during Kirtan events, chant with your soul and through your heart. Specially when chanting the Maha Mantra Hare Krishna.
… we can perceive that by chanting this maha-mantra, or the Great Chanting for Deliverance, one can at once feel transcendental ecstasy from the spiritual stratum. When one is factually on the plane of spiritual understanding — surpassing the stages of sense, mind, and intelligence — one is situated on the transcendental plane. This chanting of Hare Krishna Hare Krishna Krishna Krishna Hare Hare / Hare Rama Hare Rama Rama Rama Hare Hare is directly enacted from the spiritual platform, surpassing all lower stages of consciousness, namely sensual, mental and intellectual. There is no need, therefore, to understand the language of the mantra, nor is there any need for mental speculation or any intellectual adjustment for chanting this maha-mantra. It springs automatically from the spiritual platform, and as such, anyone can take part in this transcendental sound vibration without any previous qualification, and dance in ecstasy.

– A.C. Bhaktivedanta Swami Srila Prabhupada
Thanks for reading. If you have any questions or want to discuss about Kirtan as a service, please reach out to me through the form available in this page.
Sincerely,
– Amala Kirtana dasa